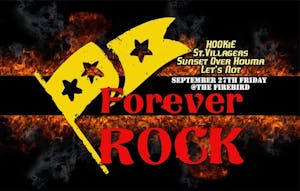 FOREVER ROCK
FOREVER ROCK night at the Firebird...
Forever Rock N Roll Night
HOOKiE
HOOKiE are a three piece American rock band that fuses Zeppelin style blues with modern rock and punk.
St.Villagers
The only Chinese Rock Band in the midwest
The best Chinese rock Band on the Block
Sunset Over Houma
Sunset Over Houma is a 6 piece band from south of St. Louis that started in May 2017.
Let's Not
Door 8pm
Show 9pm
cover $10